We are a grassroots campaign trying to get an NHL franchise to the state of Wisconsin. We have no corporate ties, affiliations or endorsements. We are just a group of Wisconsinites who, like many others, have wondered why we don't have a NHL team with all the support and passion Wisconsin has for hockey.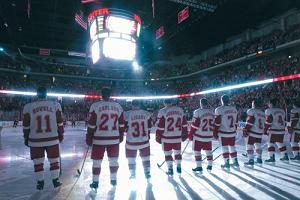 There are a lot of excuses, but none of them make sense. I've heard we are too much of a college hockey state, like North Carolina with Duke and the Tar Heels or Alabama with the Tide and Auburn. When people overly love their college teams they tend not to follow professional teams as much. Are they saying Denver, Boston, Minnesota, and Michigan don't have huge college followings? Another excuse is that there is no room in the two biggest markets, Madison or Milwaukee, for the NHL. Madison with the Badgers, and Milwaukee with the Ads, Bucks and Brewers. Why does the team have to go there? There are markets around the state that we feel could certainly support a franchise even without populations over 100,000.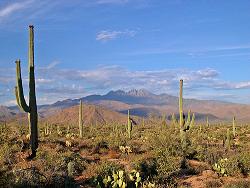 (if you build it?)
We aren't going to bash the fact that places like Dallas, Phoenix, the Carolinas all have a hockey team before Wisconsin simply because of the lack of ice or abundance of desert and palms. All cities south of the Mason-Dixon Line should have their chances to get hockey if their demand is high enough, which places like Dallas, Nashville, and Carolina have all shown. It's also too easy to bash, and it would be a waste of time to dwell on decisions the NHL has made. Besides, climate shouldn't really be an argument against franchise location, but instead a lesson on how to create teams. If you have the forsight and can take a sport into a region with not a lot of experience and have it succeed then it should be applauded. Teams can fail and thrive just about anywhere. It's all a matter of creating the right fit and marketing it well. Although it does appear roughly half of the teams expanded south are holding their own in the league.
Others will say that there are a half dozen other cities that should have the NHL before Wisconsin is even considered. Cities like Seattle, Baltimore, Winnipeg, are certainly all bigger markets for a team and one could thrive in those places. But I think Wisconsin has much more to offer than a large TV market and our state has certain intangibles that would help a team go from luke warm success story to legendary fanaticism.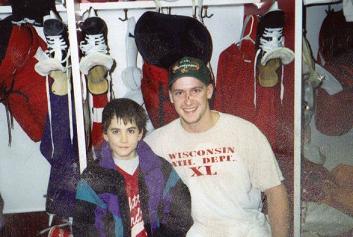 Even though it shouldn't be argument against certain areas having teams, it definitely is an argument for an area with an inherent following of hockey to build one. Personally, I have never played a minute of competitive hockey. I tried learned to skate when I was 6 and got my dome cracked while trying to use a chair for ballance. I got somewhat better over the years but never enough to be considered a hockey player. I follow the sport somewhat loosely with the Badgers and Admirals but I rarely know what goes on in the NHL. And yet I see great reasons to get a team here. It seems there is something notched into the brains of the badger state about the ice, maybe it's constantly having to drive on it, or the fact that backyards can be turned into rinks overnight and just about every kid I knew owned a pair of skates. Then there are people at the other end of the spectrum that live and die by hockey. However if they want to see a game, they have to roll the dice with VS or drive 3 hours in either direction (which a lot do).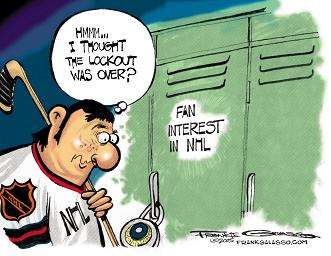 Another thing to take into consideration is the NHL is in a state of limbo and has been even before the strike hit (I think due to overexpansion mainly). Attendance is still somewhat stagnant in new markets, TV ratings are below Travel channel frass, and there is a good chance that MMA or NASCAR could supplant it, if they haven't already, from the major four sports of the US. Should the NHL worry about expanding at this juncture?
But could the NHL get a significant boost from adding a team to Wisconsin? Very likely. Not only do we believe a Wisconsin team could do better business than some of the bottom teams combined (TV ratings for bottom 3 are 18,000 households total), but it could also help the financial books of other franchises through travel expenses, and US player development (more on this later).
We believe that the NHL is coming up on a major upswing making it the perfect opportunity to try and land a team. Sure you have the occasional yahoo saying "Ah sweet, you watch hockey, I remember when I had my first beer". But that is slowly fading away. Along with steadily rising TV ratings overall (and new TV deals), there are events that are signifying an encouraging return: USA vs. Canada Gold Medal Games, the rise of Sidney Crosby as both a positive and negative, increasing Woman's hockey participation, and popular outdoor Winter Classics throughout the north to name a few.
If a below average fan like myself would go to the games and support the team I think that shows that there could be thousands of fans that want this and enough to make a franchise successful and in turn make the NHL more successful. Should the people that love hockey in WIsconsin have to support Minnesota, Detroit, or Chicago?
We will make a good case of how Wisconsin sets up great rivalries, has the infrastructure already in place, and brings a high level of passion for their sports. Much of our website will rely on fan inspiration. We've seen what a bunch of suits can come up with when given the controls (Leaders and Legends anyone?), so let's get the people that actually buy the merchandise and go to the games create their franchise.
Is it really that hard to accomplish something like this? I guess we will find out.